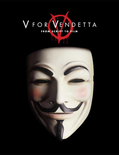 Welcome to the V for Vendetta Wiki.Edit
V for Vendetta is a graphic novel written by Alan Moore and illustrated by David Lloyd. It was published in September 1988. The story depicts a dystopian and post-apocalyptic near-future history version of the United Kingdom in the 1990s, preceded by a nuclear war in the 1980s, which has left most of the world destroyed. V for Vendetta has a same named movie after the book and it came out in 2006.  
Latest activity
Edit
Ad blocker interference detected!
Wikia is a free-to-use site that makes money from advertising. We have a modified experience for viewers using ad blockers

Wikia is not accessible if you've made further modifications. Remove the custom ad blocker rule(s) and the page will load as expected.